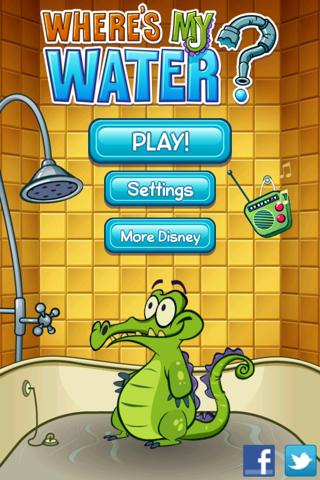 The huge number of game applications for smart phones and androids can makes it easy for mobile gamers to find fun and interesting games that they can enjoy. However, hunting for a good game app can also be tedious even if you search them by categories. Those who are looking for a fun, challenging and entertaining puzzle game app for kids and adults need not waste time browsing over the game options. They can already find everything they want in their game at the Where's My Water? game app.
This physics puzzle game from Disney Mobile can be quite addicting not just for kids but for adults too. It features Swampy the Alligator who loves to take a bath. Players need to help Swampy get enough water in his tub for a proper bath. The challenge is to maneuvre the water through dirt and broken pipes until it gets to Swampy's tub. Players can swipe their fingers through the screen to make a path for the water or tap on the sprinklers to get some water to come out from it. The puzzles become more challenging as one progresses through the levels with various obstacles like gates with special mechanisms, bombs, algae, toxic ooze, etc.
Solving the puzzles alone is already fun and entertaining. Those who would like to add more challenge to the game can aim for high scores, bonuses and collectibles. The faster you solve the puzzle, the higher the score and you also get a duck bonus for every rubber duck you collect along the way. You may also challenge your friends to beat your score or post your game through facebook and twitter to share the fun with everyone.
"Where's My Water?" is one of the most addicting games that you can enjoy in a mobile phone. Fantastic graphics, engaging sound track and sound effects, great physics challenges, appealing storyline, and adorable characters are just some of the reasons why this app is at the top of the gaming list. Players will also find it difficult to lose interest in this game because it offers fresh challenges from the levels at their web feature. Once you start with it you'll find it difficult to resist moving on to the next level.