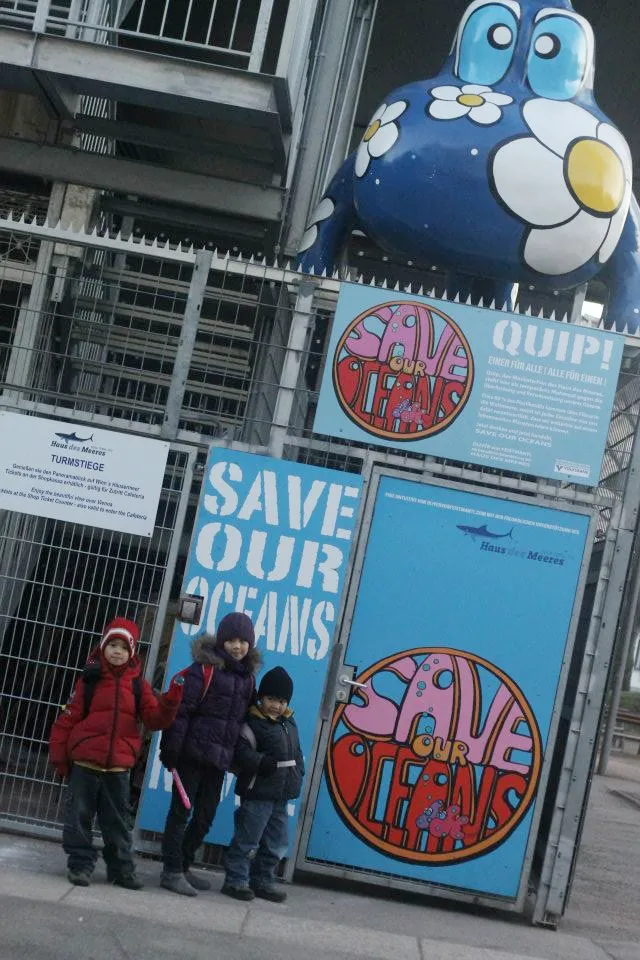 This post is updated whenever we visit a new aquarium.
There is no denying how much humans depend on the ocean. For one, the tiny, overlooked Phytoplankton helps us in a very essential way. They don't only remove (consume) excess carbon dioxode, they release half of the earth's oxygen in the atmosphere. Now, imagine what happens if they all die. Of course, it follows that everything else will die. The ozone layer, or layers of oxygen (three oxygen atoms (O3) will be depleted, causing high levels of ultraviolet light and heat from the burning sun to reach Earth and eventually destroy it.
That's why we believe that teaching kids to be green is an important step to help better our practices to lower carbon footprint and to help save our oceans.
How do we make kids see that they are able to help save the oceans? Watching documentaries and educational materials for one will make them aware of the issues. Bringing them to the sea or any body of water for a dive will make them appreciate creation and make them curious. Participating in cleanup drives on the beach will also make them see that even little actions reap big results.
If the beach is too far off, going to aquariums and listening to lectures is one way for them to see the impact of ocean conservation. And of course, having an aquarium at home will make them see that not cleaning it up is detrimental to its inhabitants.
Benefits of  Aquariums in Children
Educational
Upclose Safely
Berlin Aquadom and Sea Life
The Aquadom opened in December 2, 2003. It is located inside the Radisson Blu (edit: rebranded to Radisson Collection Hotel) in the middle of Berlin, surrounding a transparent elevator where you can view, more or less, 1,500 fish. The 82ft-tall cylindrical aquarium is said to be the biggest in the world, and the only one with an elevator. It holds the Guinness World record for being the tallest aquarium to contain an elevator in the middle.
Haus des Meeres, Vienna
Vienna's Schönbrunn Aquarium
Singapore Underwater World
The Singapore Underwater World opened in May 13, 1991 in Sentosa, Singapore.
Update: Closed on June 26, 2016 – operated for  (+1 month shy of) 25 years