School has started in this region. That means half a day, sometimes more hours spent in school, gaining knowledge and experience for the little ones. An old adage goes "All work and no play, makes Jack a dull boy…" so as a mom, I find that it is but right to balance school schedule and kids' play and other activities.
Here are some ideas for you and your kids to try.
1. Museums and Doodling 
There are a lot of museums catering for the mini-Picassos and mini-Van Gogh's. They offer activities especially tailored for the creative, exploring little hands. After a tour of an exhibit and answering questions from the museum tour guide, they will have enough inspiration and have seen a lot of colors to invoke in them images that they weren't even familiar before.
2. Outdoors and Adventures Time Out
Saturdays are best spent outside, especially if the sun is giving. Spend it biking, boating, wall-climbing, skateboarding, play football, tennis  and basketball and other physical activities. The year will be spent in school and winter is not far so better use the days out. Of course, skiing and sledding comes in the picture when snow comes.
Fishing is another activity we've done in the summers, especially when visiting Opa in Germany.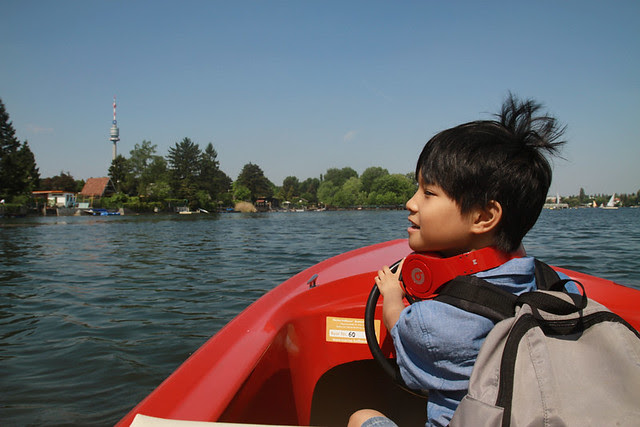 hair up, my little sailor! (ahhmm helmsman?)
3. Homebuddies and Movies
There are days when the weather won't cooperate, or when you and thekids would not be in the mood to go out. No worries, you can always go for movies and popcorn or play chess, monopoly…and there are even online games for kids and parents that can be enjoyed by both in the comfort of the living room. In this era of technology, the possibilities of having fun at home never ends. PS3, Wii, Xbox and all that? Make use of them well!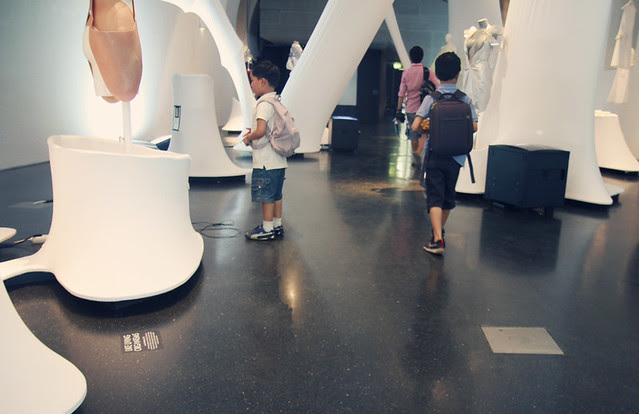 At the Museumsquartier, free exhibit
4. Theaters and Cinemas and Eat-outs
The theater is sometimes at the end of the list when finding things to do with the kids because they would prefer watching a movie on the big screen. Whichever you choose for them or whichever they prefer, make sure that the play or film to watch is worth it. Our daughter once performed on a stage play, so this is another thing to consider doing. It would be fun to talk about later on. Afterwards, take them to eat their favorite dessert or full meal! For us, that's like a sushi restaurant and black sesame Japanese ice cream!
5. Discipline, Music, Martial Arts, Sports
There's nothing wrong with learning self-defense and discipline while having fun. Karate, Taekwondo, Aikido and Judo are some of the popular form of martial arts but I'm sure there could be one you and your kids would find fit and enjoyable.  You can also enroll on a tennis weekend, basketball clinic, and other sports.
Schools usually offer these as separate extra-curricular activities along with dancing, piano lessons, choir practices and a lot more that will enhance a kids' creativity, sportsmanship to make them well-rounded individuals. My daughter did piano lessons and jazz dance back in the day – and taught the boys a bit on how to read notes. 
6. Bookstores and Reading
Someone once said "A reader lives a thousand lives before he dies. The man who never reads lives only one." I wanted my kids to live the lives I had and that's why bringing them to bookstores and libraries has been a habit. Books should not be limited to: children's stories, fables, fantasy ones, you can try Bible parables and character stories, I'm sure they'll love those too. I don't mind if they ask to buy a new book everytime we visit a bookstore, I'm filling up all the nooks and crannies to raise them bookworms. ^_^